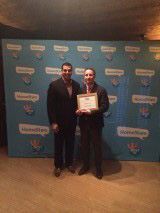 It is not everyday that carpet repair companies receive awards, but we are proud to say that we are the recent recipients of the Homestars 2015 Best of Calgary award.
For those of you not aware of Homestars.com, it is an excellent resource for finding skilled trades in your city.  It is a website that allows clients to post reviews of recent experiences with a company.  Therefore you find out exactly what another homeowners experience was.  Finally a way to learn things the easy way instead of taking a shot in the dark.  The Homestars website is very fair and honest and in the event of a dispute it will side with the homeowner.  If a company gets a bad review they will not take it down.
We take a great deal of pride in our repair and re-stretching work so we were quite happy to provide an opportunity for our clients to tell others what they thought.  Please take the time to see what others have to say about or repair and re-stretching work. Please click the blue Homestars- Read our Reviews to the right of this box.