There has been a history of defective underlays over the years.  For the most part, these underlays have been discovered and production of these underlays have been stopped. But I still do find some of these underlays that were installed years ago.  The main problem was the top of the line rubber underlays would pack out in the main traffic areas and unfortunately there is no repair for these carpets and underlay, other than just changing the underlay.  (which is an expensive ordeal)
Anyways, we have started seeing a new defective underlay.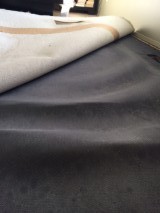 This is a black Eco Foam carpet underlay.  (The only store I have seen selling this particular underlay is Home Depot, and of note, Home Depot is good at standing behind their products)
As you can see the underlay starts to ripple underneath the carpet.  The carpet actually starts to lift and some very non-typical ripples form. Unfortunately these types of underlay issues are nearly impossible to fix without changing the underlay.  So please beware of the black Eco Foam carpet underlay!