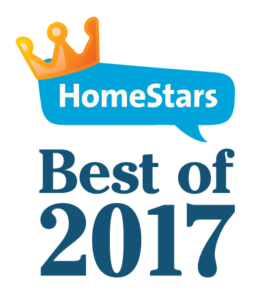 We are proud to announce that we have received the Best of 2017 Homestars Award.  This makes it three years in a row. 2015, 2016, 2017
We didn't think we would win any type of award for doing carpet repairs, but we're proud of receiving the recognition. It is a proof of our commitment to trying to do our best in servicing our clients needs.
If you're not aware of Homestars.com , it's an amazing website. It allows homeowners to not only rate the service they received from different businesses, but also read about real experiences from real customers.  If you need a carpet repair company, or a cleaning company, or a plumber, Homestars is an excellent resource.