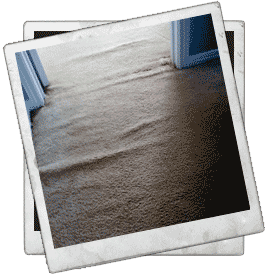 We care about carpet! We are a small company that specializes in re-stretching carpet.  This means we take a great deal of pride in our work.  All of our crews are factory trained and certified to repair your carpet the right way!  We have the knowledge and experience  to handle whatever problem needs to be tackled.
Originally, we began in the field of new carpet installations.  Interestingly enough about 10 years ago we handled quite a large amount of warranty re-stretching work for a manufacturer that had started rippling due to a defective underlay (You'll be happy to note that underlay is no longer available.)  The experience was quite rewarding as we had many, many ecstatic customers that were worried they would have to replace their carpets.  Fast forward a few years, and  we realized there was a greater need for re-stretching in the Calgary area, and here we are!
At Calgary Carpet Restretch we don't believe any carpet should be changed before it's time. We'll be glad to help out.
The Calgary Carpet Restretch Advantage
Why are we the best in the industry at re-stretching? There are two main reasons.  Firstly our experience and secondly the fact that we always use a power stretcher for our repairs. Why call a repairman or installer who has little to no experience re-stretching carpet. This is what we do.  The fact is as well that most (99%) of installers and carpet repairmen only use a knee kicker. The difference between power stretched carpet and carpet stretched with a knee kicker is obvious. If you want to make sure your carpet is repaired properly, insist on experience, insist on a power stretcher!  Insist on Calgary Carpet Restretch!
Wondering what a power stretcher looks like? Check out a recent blog post—>  https://calgarycarpetrestretch.com/carpet-repair/what-is-a-power-stretcher/
Testimonials about Calgary Carpet Restretch
Thanks for the great job you did at our residence today. We will certainly recommend you to anyone we know who needs the same service."

– Jim from Woodview
Thank you for your good work stretching my carpet last week."

– Heather from Woodbine
Thanks for coming out and fixing our carpet so quickly. Cheers!"

– Suzanne from Windsor Park
I referred you to my good friend & realtor, Tom , a while back. It appears he was very happy with you work – no surprise to me of course. Tom has another referral for you."

– Vince from Cougar Ridge