So at Calgary Carpet Restretch, we do not clean carpets, we restretch them. But most people are unaware of is how important carpet cleaning is to the maintenance of their carpet.  In fact most people are unaware that the majority of carpet manufacturers void a carpets warranty if a person does not have proof of a professional cleaning every 18 months.  That in itself illustrates the importance of getting your carpets cleaned regularly and properly.  Unfortunately though not all carpet cleaning companies do the same quality of work.
Here is a picture from one of our recent job sites that we wanted to share: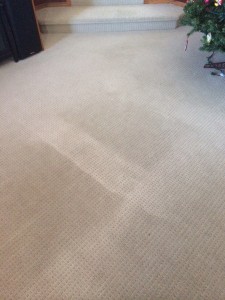 I'm sure you can see  the strange pattern in the carpet on the picture.  Here the carpet cleaner accidentally made a clean spot and then apparently decided to not finish the rest of the living room.  Throughout the house was more evidence of a very inconsistent cleaning.  This fortunately is not the average experience for those getting their carpets cleaned.  Obviously not all cleaning companies care or do as good a job as others.  We think referrals from friends or family are usually the best but this day and age you can generally find reviews online that are accurate and can point you in the right direction.  We prefer smaller owner/operator type companies that provide real service and care about getting referrals and repeat business.   We work in conjunction with many cleaning companies in Calgary and would be happy to recommend a good cleaner to you.  (Curious if you should get your carpets cleaned before or after the restretch, check out the second question in our frequently asked questions section-     https://calgarycarpetrestretch.com/faq/  )  Happy cleaning!